| | | |
| --- | --- | --- |
| | BROWSE PRODUCTS | |
| | | |
| --- | --- | --- |
| | LATEST PRODUCTS | |
| | | |
| --- | --- | --- |
| | MY ACCOUNT LOGIN | |
Harman JBL Inspire 700 In-Ear Wireless Bluetooth Headphones - Teal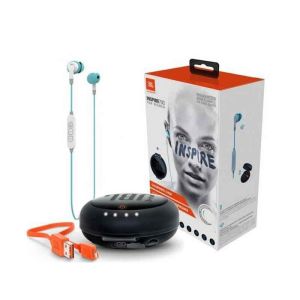 Up to 8-hour playback and 16-hour extended battery life
Twist Lock technology
FlexSoft
Sweat Proof
Microphone with music and track control
Product Dimensions: 10.3 x 6.4 x 16.3 cm ; 36.3 g
Boxed-product Weight: 222 g
Overview
Product Name:
Harman JBL Inspire 700 In-Ear Wireless Bluetooth Headphones - Teal
Product Code:
EC8-B31-1AB
Pack Size:
1
Condition:
As New
Warranty:
Yes: 12 months
Despatch Time:
Usually ships same working day*
Availability:
SOLD OUT
Category:
Headphones
We Also Recommend These Products:
Description
Created by athletes, the JBL Inspire 700 Sport Headphones add great sound performance to your active lifestyle. Providing up to 8 hours of playback, thanks to the charging case they ensure up to 16 hours of JBL Signature Sound to keep you going longer and harder. The charging case offers also a rugged and secure protection to your headphones while not in use. No matter how hard you are working out, the secure Twist Lock technology with ergonomic ear tips are never to hurt or fall out. What's more, there're sweat proof for endurance through rain and sweat. These sport headphones provide a premium audio experience and perfect fit, with the convenience of Bluetooth wireless.
Providing up to 8 hours of playback, thanks to the charging case, these headphones ensure up to 16 hours of extended battery life. The charging case offers rugged and secure protection.
Our patented Twist Lock technology provides a secure fit, ensuring these headphones never fall out even during the most rigorous physical activities.
never to hurt, these headphones are made with ultra-soft flexible silicone for long-lasting ergonomic comfort.
Developed for training in any conditions, the Inspire 700 endures through rain, water, and sweat
Microphone with music and track control
Box Contents:
Harman JBL Inspire 700 In-Ear Headphones (with shirt clip)
2 sizes Earbuds
Sport carry pouch
Charging cable
Charging case
Booklets
Customer Questions (0)
Click here to ask a question
Please note: Product specifications may change so always refer to the product description for full details.
PLEASE READ: Product description always supersedes answers to questions in case of contradiction. Any features mentioned in product questions that are not mentioned in the product description tab are not firm. i.e. if an answer to a question says a product has a certain feature, but this is not mentioned in the description, please check with us first since this may no longer be correct if the product specification has changed.

Specifications and appearance are given as guidelines and may change without notice.
Harman JBL Inspire 700 In-Ear Wireless Bluetooth Headphones - Teal
Product Code:EC8-B31-1AB
Product ID:38701
More : Headphones
* We always endeavour to ship orders the same working day that they are received.
However if in the unlikely event of any complications we will contact you as soon as possible.
Working days are Mon to Fri