| | | |
| --- | --- | --- |
| | BROWSE PRODUCTS | |
| | | |
| --- | --- | --- |
| | LATEST PRODUCTS | |
| | | |
| --- | --- | --- |
| | MY ACCOUNT LOGIN | |
Official Genuine Apple Magic Mouse 2 Bluetooth Rechargeable MLA02Z/A A1657 - Silver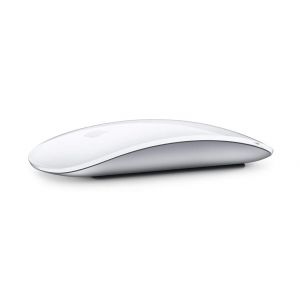 Size and Weight:
• Height: 2.16 cm (0.85 inch)
• Width: 5.71 cm (2.25 inches)
• Depth: 11.35 cm (4.47 inches)
• Weight: 0.099 kg (0.22 pounds)

General:
• Multi-Touch

Connections and Expansion:
• Bluetooth
• Lightning port
• Wireless
Overview
Product Name:
Official Genuine Apple Magic Mouse 2 Bluetooth Rechargeable MLA02Z/A A1657 - Silver
Product Code:
51E578BEE14B
Pack Size:
1
Condition:
As New
Warranty:
Yes: 12 months
Despatch Time:
Usually ships same working day*
Availability:
SOLD OUT
Category:
Keyboard & Mice
We Also Recommend These Products:
Description
Magic Mouse 2 is completely rechargeable, so you'll eliminate the use of traditional batteries. It's lighter, has fewer moving parts thanks to its built-in battery and continuous bottom shell, and has an optimised foot design — all helping Magic Mouse 2 track easier and move with less resistance across your desk. And the Multi-Touch surface allows you to perform simple gestures such as swiping between web pages and scrolling through documents. Magic Mouse 2 is ready to go straight out of the box and pairs automatically with your Mac.
| | |
| --- | --- |
| Device Type | Mouse |
| Connectivity Technology | Wireless - Bluetooth |
| Dimensions (WxDxH) | 5.71 cm x 11.35 cm x 2.16 cm |
| Weight | 99 g |
| Multi-Touch | Yes |
| Features | Scrolling, gesture function |
| OS Required | Apple MacOS X 10.11 or later |
| Designed For | iMac; Mac mini (Late 2012, Late 2014, Mid 2011); Mac Pro (Mid 2012); MacBook (Early 2015, Early 2016, Mid 2017); MacBook Air (Early 2014, Early 2015, Mid 2011, Mid 2012, Mid 2013, Mid 2014, Mid 2017); MacBook Pro |
Box Contents:
Magic Mouse 2
Lightning to USB Cable
Customer Questions (0)
Click here to ask a question
Please note: Product specifications may change so always refer to the product description for full details.
PLEASE READ: Product description always supersedes answers to questions in case of contradiction. Any features mentioned in product questions that are not mentioned in the product description tab are not firm. i.e. if an answer to a question says a product has a certain feature, but this is not mentioned in the description, please check with us first since this may no longer be correct if the product specification has changed.

Specifications and appearance are given as guidelines and may change without notice.
Official Genuine Apple Magic Mouse 2 Bluetooth Rechargeable MLA02Z/A A1657 - Silver
Product Code:51E578BEE14B
Product ID:38783
More : Keyboard & Mice
* We always endeavour to ship orders the same working day that they are received.
However if in the unlikely event of any complications we will contact you as soon as possible.
Working days are Mon to Fri